Slow Down And Dance EP (ORG002)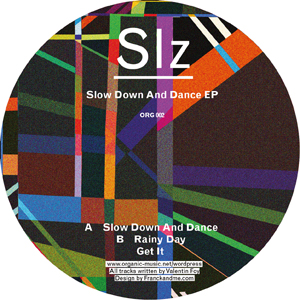 Slz debut release on Organic label is marked by three tracks which differ stylistically but are united by the original signature of this young and talented French producer currently based in Berlin. His rich musical palate makes the Slow Down And Dance EP a versatile release that can always be handy to have in the record bag.
12″ with artwork by Franck and me available in November. For orders please contact us: info(at)organic-music.net
Press release (Tailored Communication)
Stream Slow Down And Dance EP on Soundcloud:
ORG002 Slz – Slow Down And Dance EP by Organic-Music
Download the bonus track Hood Bro' from Soundcloud:
Slz – Hood Bro' by Organic-Music
Info text:
Slz – Slow Down & Dance
This track is just too good. It has everything; groove, melody, depth, intellect, variety, textures, sadness, calmness, length, progression, surprise factor, trumpet and nine minutes so you can just get enough. It starts ominously with tension and deep pad sounds but eases and relaxes as it flows like a delicate, invisible smoke through space. The track feels like a sophisticated, long conversation with your best friend. Oh yes,… and you fall in love in the end.
Slz – Rainy Day
This is more of a happy version of a typical, sad rainy day with a hint of humour, abstraction and geometrical interplay of various instruments. Evolving is the word that definitely suits this track. It starts as a weird electronica but introduction of live drum fills and sax takes you somewhere nice, jazzy and comfortable. Despite its unusual rhythmical structure 'Rainy day' is very danceable and quirky. It plays with you gently with a slightly lazy and cheeky brass melody. The toy-like, pulsating organ part keeps counting in the background and suspends you occasionally when it releases unexpectedly certain notes in decay. It finishes in one breath living you smiling and wanting more.
Slz – Get It
'Get it' is ultimately a deep/funky track which evolves in cycles with every cycle adding layers and flavours to the track's progression. Sensual vocal samples and restless drum pattern drive the energy through. There are few break downs in the track masterfully executed with subtle build ups which give 'Get it' it's teasing quality. Perfect for peak time track to sensually charge the crowd.